November 16, 2021
Posted by:

Oliver Nzala

Category:

ZRA News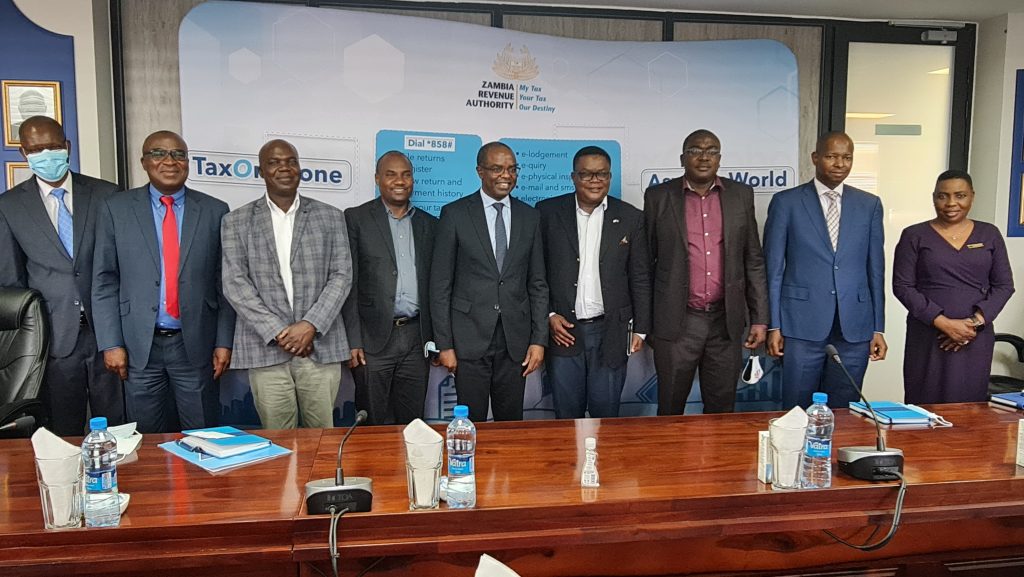 The Walvis Bay Corridor Group (WBCG) was established in 2000 to engage in business development activities to increase cargo for Walvis Bay Port and the corridors linked to it, and to engage in the facilitation of corridor and infrastructure development.
The Walvis Bay Corridor Group is structured as a unique public-private partnership (PPP) for transport and logistics stakeholders from both the public and private sectors. The Walvis Bay Corridors are an integrated system of tarred roads and rail networks – accommodating all modes of transport. And the Namibian Ports Authority (NPA) is a state-owned enterprise established by an act of parliament in 1994 to manage principally the ports of Walvis Bay and Lüderitz, as well as managing a Syncrolift dry dock facility in Walvis Bay.
Speaking when he hosted a delegation from the Walvis Bay and Namibia Port Authority, Zambia Revenue Authority (ZRA) Commissioner General Mr. Dingani Banda said there was a serious need for engagement with such partners to improve border operations and trade facilitation.
He further said that Katimamulilo Border Post plays a critical role in facilitating goods through the Walvis Bay Corridor and may soon be considered for transitioning into a One-Stop Border Post (OSBP) as it already has the required infrastructure.
And speaking during the same meeting, Walvis Bay Corridor Group Chief Executive Officer Mr. Mbahupu Hippy Tjivikua has uploaded ZRA for many modernisation initiatives being put in place to make doing business easier like implementing the preclearance system which is reducing waiting times and congestion at the border.
Mr. Tjivikua further that there is also a need for considerations to extend the border operating times from the current opening at 7 am, and closing at 7 pm to 24 hours service as having the border closed for the long 12 hrs translates into lost time in business.
Director of Transportation Policy and Regulation at the Namibia Ministry of Works and Transport Dr Cedric Limbo said that the government through ZRA should consider upgrading the Kipushi and Mokambo borders which are shorter routes into the Democratic Republic of Congo (DRC), and may in turn assist in decongesting traffic at Kasumbalesa border post.