March 11, 2022
Posted by:

Mildred Chama

Category:

ZRA News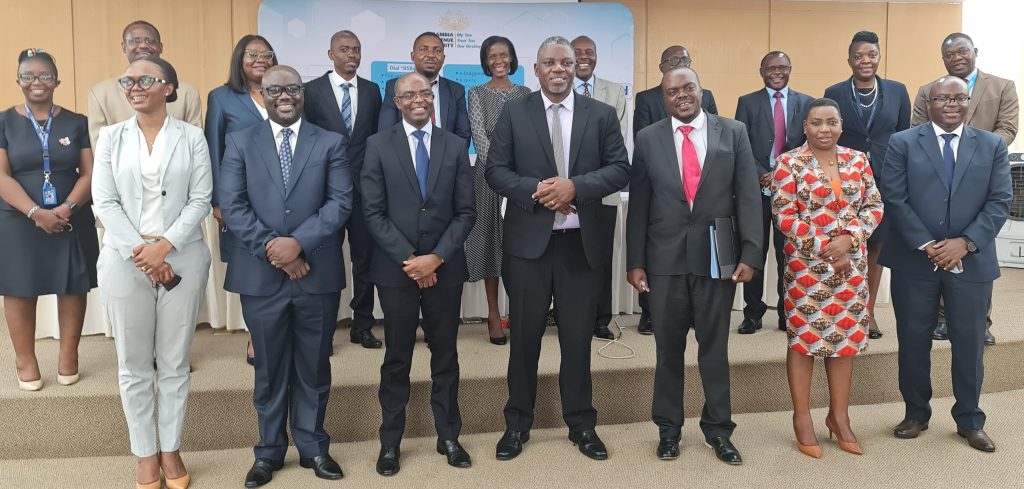 In a bid to boost digitalized tax services and ease doing business in Zambia, the Zambia Revenue Authority (ZRA) has joined the Government Service Bus (GSB).
To enable information exchange and payments under the auspices of the government service bus project, the ZRA has signed a memorandum of Understanding (MOU) with SMART Zambia Institute for the implementation of Integrated Electronic public service delivery system under the two institutions.
In his remarks, ZRA Commissioner General Dingani Banda noted that the signing of the MOU was a fulfillment of government's commitment to interfacing ZRA with the government bus and other institutions.
The Commissioner said the Authority's top priorities included ensuring ZRA is sufficiently integrated at process level with key entities locally and within the region to attain operational efficiency and service delivery to the public.
"ZRA management recognises that integration of the TAX administration to the rest of the transaction ecosystem in the country and the region reduces opportunities for tax revenue leakages through among others fraud, smuggling and corruption," said Mr. Banda.
"Signing this memorandum of understanding will enable ZRA to easily interface with various government and quasi-government institution through one central place. the interface with other institutions will facilitate timely and efficient exchange of critical data and business information between institutions," he added.
Further the Commissioner General said, the Zambia Revenue Authority is focused on building smart innovative systems that will transform the tax administration in Zambia into a world class model and also attain revenue of gross domestic product (GDP) rates similar to those in some developed economies.
In his speech, the National Coordinator for SMART Zambia Institute, Percy Chinyama noted that the MOU is an illustration actualizing the utilisation and harmonizing technology initiatives to ensure cost effective delivery of public services.
"Currently there are one hundred and eleven (111) E-services available to the Zambian Public on the GSB platform. These are available through the ZAMPORTAL and can be accessed through www.zamportal.gov.zm," he said
He added that the signed MOU will see the addition of two (2) more services from ZRA onto the GBS platform that will strengthen data exchange among public Service Institutions.
The MOU will also enable ZRA to use the ZAMPAY solution to efficiently and effectively manage online transactions for payments of imports, exports and transit permits and other payments. The exchange of the necessary business information between ZRA and other external institutions will also assist to improve business processes, efficiency and quality of data.